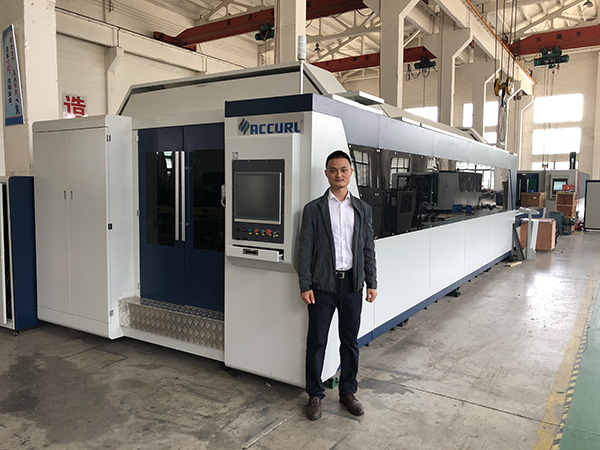 Mga pagtino
---
Cutting Area:6000*2000mm
Pagputol sa Speed: 0-30000mm / min
Graphic Format Supported:AI, PLT, DXF
Paggamit: Laser Cutting
Kondisyon: Bag-o
Pagputol sa Thickness: 0-30mm
CNC o Dili: Oo
Pagpabugnaw nga Mode: Pag-abiba sa Tubig
Pagkontrol sa Software: Cypcut
Dapit sa Pinulongan: Anhui, China (Mainland)
Pag-certify: CE, ISO
Warranty: 2 ka Tuig
Service:Wholelife time online serveice
Laser cutting machine laser source:Fiber laser source
Max working area of metal laser cutter:2000mmmX6000mm
Function of laser cutting machine:Cutting stainless steel/aluminum/brass sheet
Cooling system:Water
Flatbed laser cutting machine max speed:30m/min
Warranty of laser cutting machine:2 Years
Certificates:CE ISO FDA
Keyword:2kw fiber laser cutter
Features of 2kw fiber laser cutter:
---
1.Air-cooled can greatly save power consumption during work, save operating costs, and achieve maximum production efficiency.
2. The fiber laser adopts the modular and redundant design of the semiconductor. There is no optical lens in the resonant
cavity. It does not require startup time. It has the advantages of no adjustment, maintenance-free, and high stability. It reduces the cost of accessories and maintenance time. This is unmatched by traditional lasers.
3. The output wavelength of the fiber laser is 1.064 micron, which is 1/10 of the CO2 wavelength. The output beam quality is good and the power density is high, which is very beneficial to the absorption of metal materials. It has excellent cutting and welding ability, so that the processing cost is lower.
Processing materials:
---
The 2kw fiber laser cutter is used in stainless steel, carbon steel, alloy steel, silicon steel, spring steel, aluminum, aluminum alloy, galvanized sheet, galvanized sheet, pickled sheet, copper, silver, gold, titanium and other metal sheet and pipe cutting.
Processing advantages:
---
(1) High precision, fast speed, narrow slit, minimum heat affected zone, smooth cut surface.
(2) The laser cutting head does not come into contact with the surface of the material and does not scratch the workpiece.
(3) The slit is the narrowest, the heat affected zone is the smallest, the local deformation of the workpiece is very small, and there is no mechanical deformation.
(4) It is easy to process, can process any pattern, and can cut pipes and other profiles.
| | |
| --- | --- |
| Ngalan sa produkto | CNC shop flatbed full spectrum 2kw fiber laser wood and metal cutting machine for sale |
| Ang tinubdan sa laser | Fiber laser |
| Laser Power | 500W/1KW/2.2KW/3KW/4KW/6KW |
| Laser nga Wavelength | 1070nm |
| Max working area | 6000x2000mm |
| Nagtrabaho nga lamesa | Double exchange tables |
| Z axis movement | 100mm |
| Paghulagway sa katukma | ± 0.01mm |
| Repeating accuracy | ± 0.02mm |
| Max speed nga pagputol | 18m/min |
| Max cutting thickness | 1-30mm according to materials |
| Gipabugnaw | Pagpabugnaw sa tubig |
| Laser Cutting Head | Auto focus Raytools from Swiserland |
| Servo Motor & Driver | YASKAWA From Japan |
| Reducer with Gear | Shimpo from Japan |
| Rack Pinion | Hiwin from Tanwan(World Brand) |
| Linear Guiderail | Hiwin From Tanwan(world Brand) |
| Linear Guiderail | Hiwin From Tanwan(world Brand) |
| Sistema sa Pagpugong | CyperCut8000 from Bochu China |
| Oil Lubricated | Automatic lubricated |
| Gantry System | Steel gantry |
| Pneumatic Control | SMC from Japan |
| Gas controller | Double |
| Sukod sa Machine | 14400*3350*1890 mm |
| Gibug-aton | 4200Kg |
| Power Protection Level | IP54 |
| Boltahe | Three Phases 380V, 50HZ |